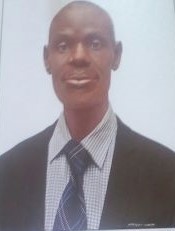 PROFILE OF DR. IWAT ETIM UDOFIA, ACTING UNIVERSITY LIBRARIAN, UNIVERSITY OF UYO
DLS, BLS ( A.B.U.,Zaria);MLS ( Ibadan);  Ph.D ( Nigeria), CLN
Dr. Iwat Etim Udofia, an indigene of Mbiaya Uruan, Uruan Local Government Area of Akwa Ibom State was born on the 17th April, 1960.
He attended Army Children's School, Dodan Barracks, Lagos from 1967 to 1973, where he sat for  and obtained his First School Leaving Certificate ( F.S.L.C ) in June, 1973.
He also attended Trinity Secondary School, Apapa – Lagos from 1974 to 1979, where he obtained his West African School Certificate (W.A.S. C) – Ordinary Level in June, 1979. Dr. Udofia attended Ahmadu Bello University, Zaria from 1982 to 1984, where he acquired a Diploma in Library Science (D.L.S.) in August, 1984, and later retuned to the same institution between 1986 and 1989 to earn a Bachelor of Library Science (B.L.S ) degree – First Class Honours in September, 1989, also emerging the overall best graduating student in faculty of Education ( Dean's Prize ). Dr. Udofia attended the University of Ibadan from 1996 to 1998, where he obtained a Master's degree in Library Science ( M. L. S. ) in January, 1999. He also attended the University of Nigeria, Nsukka between 2010 and 2017, where he bagged a Doctor of Philosophy ( Ph.D ) in Library and Information Science in June, 2017.
Dr. Iwat Udofia was first appointed Assistant Librarian in University of Uyo in January, 2008. He was upgraded to the position of Librarian, 11 in June, 2017 and later promoted to the position of Librarian, 1 in January 2021. Prior to his appointment as Acting University Librarian, effective August 1, 2022, Dr. Udofia had held several administrative positions within the University, including Head, Serials and Documentation Unit, Nyong Essien Library 2008 – 2010; Head, School of Basic Studies ( S. B. S.) Library, Ime Umanah Campus, Ediene – Abak, 2016 – 2021, and Head, Faculty of Agriculture Resource Centre, June, 2021 – August, 2022.
Before his appointment in University of Uyo. Dr. Iwat Udofia had served in various key establishments, notably Library Assistant, National Assembly ( Parliament ) Library, Lagos, 1979 – 1982; Library Officer, State House Library, General Staff Headquarters, Lagos, 1984 – 1986; Librarian ( N.Y.S.C, ), Nigeria Institute of Architects Library, Victoria Island, Lagos, October, 1989 – October, 1990; Librarian 11, Federal Ministry of Education Headquarters Library, Lagos, 1991- ; Chief Librarian, Federal Ministry of Education Headquarters Library, Abuja, 2006 -2008.
Dr. Udofia a Certified Librarian, duly registered by Librarian's Registration Council Of Nigeria ( L.R.C.N.) and member of several professional Associations, including Nigerian Library Association, Association of Government libraries and Association of University Librarians of Nigeria, is happily married with Children.