Professor Ime R. Udotong
Director, IHSSES - 08023008640,08034423182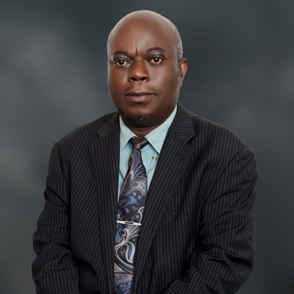 Ime R. Udotong was born on 23rd July 1960 in Ikpe Annang, Etim Ekpo LGA, Akwa Ibom State, Nigeria. He holds a Higher National Diploma (HND) in Applied Biology (Microbiology option); a Master of Philosophy (M.Phil) degree in Applied Microbiology and a Doctor of Philosophy (Ph.D) degree in Applied / Environmental Microbiology from same University. He joined the University of Uyo as Lecturer II in 1993 and rose through the rank to the position of a Professor in 2007.
He was seconded from the academic department to work as the Managing Director of University of Uyo Consultancy Ltd for about five (5) years. While on this seat, he had opportunities of working for all the multi-national oil companies like Shell Petroleum Development Company Ltd (SPDC); Mobil Producing Nigeria Unlimited (MPNU); Elf Petroleum Nigeria Ltd (EPNL), Nigerian Agip Oil Company Ltd (NAOC), etc on the public health implications of oil & gas pollution of the Niger Delta region. Besides, he has worked as an Environmental Consultant / Expert to multinational oil & gas companies in NAOC, Port Harcourt, Nigeria; Ecologia Applicata Unit, Environmental Systems Unit, Saipem SpA, Fano, Italy in Europe and Giolee Global Resources Ltd, 18, Uyo Street, Rumuomasi, Port Harcourt, Rivers State where he served as the Remediation Project Manager of the biggest of the HYPREP Ogoniland Cleanup Lot at Alode, Eleme.
In addition, he has worked as the Head, Department of Microbiology; Director, Directorate of Pre-degree Basic Studies and as the Pioneer Head of Campus, Dr. Ime Sampson Umanah Campus of University of Uyo, Ediene Abak, from 2011 to 2013.
He proposed to the University Senate to start the Diploma and Postgraduate Diploma programmes in Health, Safety, Security & Environment (HSSE) and got it approved since 2015/2016 session. The programmes are since on-going in the School of Continuing Education and Professional Studies on part-time basis under him as the HSSE Programmes Coordinator.
Professionally, he holds Diplomas in Fire fighting / Fire prevention and First Aid Treatment from Mobil Training School. He is an IRCA-certified Auditor / Lead Auditor in Occupational Health & Safety (OHSAS 18001):2007. He is a member of ALL the major Safety professional bodies in Nigeria: the Institute of Safety Professionals of Nigeria (ISPON), American Society of Safety Professionals (ASSP) and World Safety Organization Nigeria Chapter (WSO-NG). He was nominated and conferred with the 2018 WSO-NG Safety and Emergency Response Ready (SafERR) Ambassador as well as the WSO-NG Armstrong Oyakhilome's Best Environmental Scientist Award. He is a Certified Management Consultant (CMC) and a Fellow of the Chartered Institute of Management Consultants (FIMC).
He has published well over 60 articles in local and international journals including book chapters and technical reports to his credit. He is currently the Founding Editor / Editor in Chief of the Nigerian Journal of Health, Safety, Security & Environment (HSSE). His current research interest is the areas of Health, Safety, Security & Environment (HSSE).