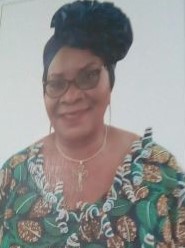 PROFILE OF IYOM (BARRISTER) NJIDEKA BERNADETE NWACHUKWU
The beautiful-looking, but unassuming Njideka Bernadette Nwachukwu was born in Enugu, Enugu State, Nigeria on July 4, 1948.  She attended the Holy Rosary School, Ogbette, Enugu from 1955-1962, where she obtained her First School Leaving Certificate.  After her primary education, she proceeded to the School of Nursing, Our Lady of Lourdes Hospital, Ihiala and qualified as a Registered Nurse in 1967 and in 1974 as a registered Midwife.  Njideka B. Nwachukwu obtained her GCE O/Level Certificate in 1975 and the GCE A/Level Certificate in 1979 through Woolsey College London (Distant Learning Course).  At the end of her secondary education where she shone like a lone star, she got admitted as a student of the Law programme of the University of Nigeria, Enugu Campus in 1981.  She completed the Law programme in 1986 with a Second Class Honours, Upper Division degree.  Nwachukwu spent one year in the Nigerian Law School and was called to the Nigerian Bar as a Barrister and Solicitor of the Supreme Court of Nigeria in 1987.
For Legal practice, the education so far obtained would have sufficed, but she had an eye on the academia.  To actualize this, she got admitted into the University College London, United Kingdom from where she got a Master's Degree in Law (LLM) in 1995.  In 1999, this amazon was admitted as a Solicitor of the Supreme Court of England and Wales, a feat worthy of commendation.  Njideka B. Nwachukwu began her professional career as Staff Nurse in 1970 in the University of Nigeria Teaching Hospital, Enugu rising to the position of Nursing Sister, Senior Nursing Sister and culminating as Matron before her transfer of service to the Ministry of Justice in 1987.  In 1987, she assumed duty as a State Counsel, Ministry of Justice, Enugu and retired voluntarily in 1993 as Principal Legal Officer. 
After her voluntary retirement in 1993, she proceeded to the United Kingdom and was employed as Nursing Sister at London Chest Hospital, London where she served from 1994-1999, served as Solicitor and Head of Immigration Department, Patterson Sebastian & Co. Solicitors, Wembley, London, United Kingdom 1999-2003.  She returned to Nigeria in 2003 and was appointed Senior Special Assistant to the Governor, Anambra State on Legal Matters/Special Duties where she served from 2003-2006; she was appointed Member, Board of Federal Road Safety Commission where she served from 2009-2011.  She began her Private Law Practice as a Senior Chamber Executive, Professor Ilochi Okafor (SAN) & Co. Chambers in 2009 and in 2021, she was appointed Pro-Chancellor and Chairman, Governing Council, University of Uyo, Uyo.  Iyom (Barrister) Njideka B. Nwachukwu is married to Mr. Goddy Nwachukwu and they have children and grandchildren as a testimonial.