Deputy Vice-Chancellor (Administration)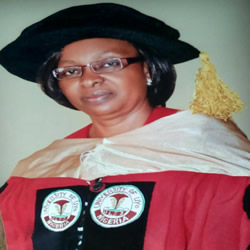 Prof. Enoidem Burma Usoro was born on November. 23,1958. She attended the Polytechnic, Calabar from 1978 – 1981; the Rivers State University of Science and Technology, Port-Harcourt, 1982 – 1986, the University of Nigeria, Nsukka, 1988 – 1990 and the University of Uyo 2001 – 2005. Through these Institutions, she earned the National Certificate in Education, NCE, Business Education, 1981; Bachelor of Science, degree with first class honours division in 1986, Master of Education, M.Ed., degree in 1990 and Doctor of Philosophy, Ph.D., degree in 2006 all in Business Education.
Enoidem Usoro was appointed Teaching Assistant in the erstwhile University of Cross River State, UNICROSS now University of Uyo, on November 12, 1986 in the Department of Vocational Education, Faculty of Education. She served diligently and rose through the ranks and was promoted Professor of Business Education on October 01, 2011.
She has served as lecturer, project and seminar supervisor, coordinator of academic activities and programmes in the Department, Faculty and the University at large. She was examination officer from 1991 to 1994 in the Department. In 2008, she was appointed Head of Department of Vocational Education, and later on a Vice-Dean of Faculty of Education in 2015 as well as Chairman, Board of Centre for Gender Studies. She has served as a member of Faculty Board of Education, Committee on Examination Malpractice; Appointments and Promotions Committee (A and PC) Academic (2015 – 2018) among others.
Prof. Enoidem Usoro has taught over 23 courses including graduate student courses and has been an External Examiner to various tertiary institutions and National Examination Boards. She is also a resource person and consultant to government educational programmes like the Universal Basic Education (UBE) and member National Universities Commission Accreditation Visit team to many institutions.
She was the 49th Inaugural Lecturer of the University of Uyo on the title: "Business Education: Skills Acquisition and Development for Posterity".
The new Deputy Vice-Chancellor, Academic, is also a member of Association of Business Educators of Nigeria, ABEN; Association of Vocational and Technical Educators of Nigeria, AVTEN; Treasurer, Association for the Advancement of Vocational Education in Nigeria, AAVEN; and, member, National Association of Teachers of Technology, NATT, among others. The Professor of Business Education, has many published works: a book, 51 journal articles of which 13 are in international journals, 10 book chapters and over 22 conference papers to her credit.
Prof. Enoidem Usoro is married with five children and she loves Youth Counselling in career programmes and Women Skills Development in Church and Rural settings which she takes both as community service and hobby.