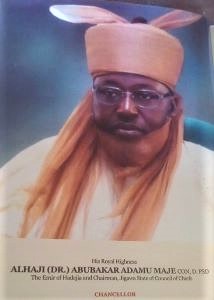 A PROFILE Of HIS ROYAL HIGHNESS, ALHAJI ADAMU ABUBAKAR MAJE CON, EMIR OF HADEJIA AND CHAIRMAN, JIGAWA STATE COUNCIL OF CHIEFS, THE 4TH CHANCELLOR OF THE UNIVERSITY OF UYO
Born in Hadejia on October 15, 1960, Alhaji Adamu Maje grew up in the then little town of Hadejia.  The town has now developed to become the commercial nerve centre of Jigawa State.  He attended Abdulkadir Primary School, Hadejia from 1967-1973.  He then took the entrance examination for Federal Unity School and got admitted to the Federal Government College, Ikot Ekpene in 1973.  He left Ikot Ekpene after three years, in 1976 to complete his secondary education in Government Secondary School, Danbatta, Kano State, in 1979, after writing the West African School Certificate Examination which he passed.
Young and talented Adamu contemplating on how to bring succor to his people thought it wise to enroll in the School of Rural and Social Studies, Kano in 1981 to 1982.  This is a tertiary institution which offers courses leading to the award of National Diploma and Higher National Diploma.  It formed part of the Kano State Collegiate System under the banner of Kano State Polytechnic at the time it was established.  Between 1983 and 1985, he returned to further his studies in the same institution.  He obtained a diploma in Rural and Social Studies.  After working awhile, he underwent a course in Public Administration and obtained an Advanced Diploma in Public Administration in 1996 from Ahmadu Bello University, Zaria.  He also obtained a 2nd Class Honours degree in Peace Studies and Conflict Resolution from the National Open University of Nigeria in the year 2015.
As a seasoned civil servant, Alhaji Adamu Abubakar Maje served as Social Welfare Officer in Kano State between 1982 and 1988; Kano State Pilgrims Welfare Board, 1988 to 1991; Jigawa State Pilgrims Welfare Board, 1991 to 1998; Senior Personnel Officer, Ministry of Social Welfare, 1998 to 1999.
Alhaji Adamu Abubakar Maje was crowned Iyan Hadeji and served in the Council of Hadejia Emirate, from 1999 to 2000 during which time he began to study the rudiments and techniques of rulership.  He was later appointed Secretary, Jigawa State Pilgrims Welfare Board from 2000 to 2012.
Alhaji Adamu Abubakar Maje was crowned the 16th Emir of Hadejia and Chairman, Jigawa State Council of Chiefs on September 13, 2002 succeeding his late father the then Emir of Hadejia, Alhaji Abubakar Maje Haruna.  He has been performing this responsibility creditably and diligently being armed with his wealth of experiences through his studies and during this stint in the Civil Service.  It is in recognition of his capacity to effectively administer his Emirate that His Royal Highness was on May 05, 2015 appointed Chancellor of this University by His Excellency, former President Goodluck Ebele Jonathan.
His Royal Highness loves horse riding, basketball, table tennis, traveling and reading.  He has traveled wide, visiting most of the world's continents.  He has also attended many workshops within and outside Nigeria and has headed and participated in many peace missions within and outside the State.  He is a member of Jama'atul Nasrul Islam (JNI).  In recognition of His Royal Highness's exemplary leadership qualities and selfless service to humanity he was conferred with National Honours as Commander of the Order of the Niger (CON) by the late President Alhaji Umaru Musa Yar'adua, GCFR, in the year 2006.  Alhaji Adamu Abubakar Maje, CON, is married with many children.