UNIUYO 29TH MATRICULATION CEREMONY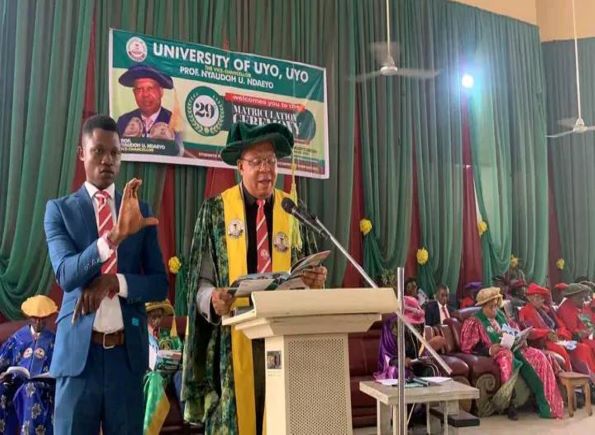 The Vice-Chancellor of the University of Uyo, Prof. Nyaudoh Ndaeyo  admonished the newly admitted students into the University to be serious with their studies, shun cultism, examination misconduct and bad association if they" want to succeed" in the University of Uyo.
Prof. Ndaeyo informed the freshmen that the University of Uyo has made available within its capacity, facilities and resources needed by the students to succeed and stand out in their chosen field of study, adding that, medical facilities in the University are up-to-date, and are free to all registered students even while they are on holidays.
Speaking further, the Vice-Chancellor assured the newly admitted students that the Management of the University of Uyo operates an open door policy in the sense that, it is prepared to listen and dialogue on all issues affecting students and their studies. He again advised them against using violent to settle issue or misunderstanding if they occur, saying that, all problems can be resolved amicably without resulting into conflict.
He said, "Crisis leads to loss of property, time and even life; crisis may keep you on the programme longer than necessary. So be mindful of what you do. I urge you to make the best use of this golden opportunity by spending your time wisely and making your academic endeavour focus. The degrees of the University of Uyo are only awarded to deserving students who are found to be worthy in character and learning."
"It is in your own best interest to be security conscious and shun all activities that would be detrimental to your stay in this University as a student, for instance, avoid cultism and examination misconduct. University of Uyo as brand has stringent policy for fraudulent behaviour".
Prof. Nyaudoh Ndaeyo further disclosed that over twenty thousand (20, 000) candidates applied and sought to be admitted into the University of Uyo but only ten thousand, one hundred and forty-eight (10,148) were lucky to be admitted. He urged the matriculated students to be serious with their studies as they are the lucky ones to be admitted into the prestigious University of Uyo.
The 29th Matriculation Ceremony of the University of Uyo featured oath taking by the matriculated students, administered by the Acting Registrar, Mr. Linus Okoko after they were presented by their respective Deans of Faculties.
Breakdown of the 29th Matriculation shows that a total of eight thousand, one hundred and seventy-one (8,171) full time undergraduate students are admitted while One Thousand, one hundred and sixty-eight (1,168) students are admitted into full time Postgraduate programmes of the University for 2021/2022 academic session.
Others admitted into School of Continuing Education and Professional Studies category are: forty- seven (47) in certificate programme; four hundred and fifty-nine (459) in diploma programme; one hundred and twelve (112) in Undergraduate programme (part-time); thirty-seven (37) in sandwich programme; one hundred and eight (108) in postgraduate programme; forty-two (42) in masters progrmme; and four (4) in Ph.D progrmme.